Utilities Location & Coordination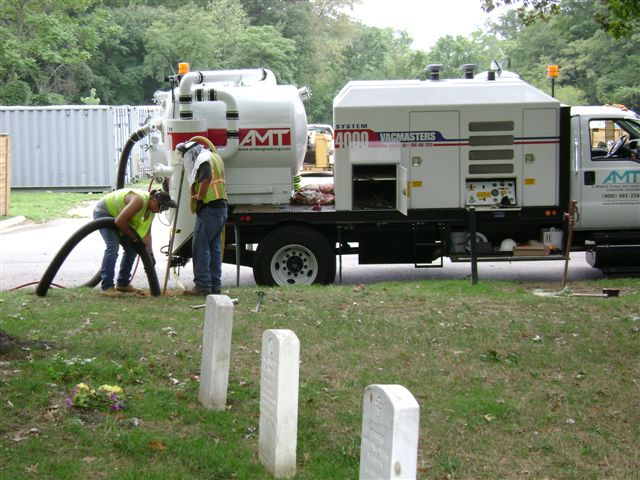 We design the water infrastructure and the duct banks for the "dry utilities" that often accompany the wet. When working with water infrastructure, our Water and Wastewater Team coordinates closely with existing utilities. An important part of our practice revolves around finding the exact locations of existing utilities for you. Our staff is experienced in designing for rehabilitation and replacement of water distribution and wastewater systems. We also design for new or extended water and wastewater systems as needed for development projects or road extensions. In fact, we have designed more than 21 miles of pipe work in the last three years.
All this pipeline work means that existing utilities could be affected. To reduce conflicts and project risks, AMT's Survey and Subsurface Utility Engineering Teams offer to locate these existing utilities and coordinates with private utility providers as needed.
Subsurface Utility Engineering, or SUE, is a process that allows engineers, designers, and project owners to "look underground" and map utility infrastructure without massive excavations. AMT's SUE Team offers a wide range of services to support utility mapping requirements and has designated more than 5 million feet of utilities and performed safe excavation of more than 1,000 utility test holes. Utilities that can be located include water and wastewater as well as gas, cable, telecommunications and cable television lines.
The SUE Team employ the latest technology to increase the accuracy of our data including double ended connections, ground penetrating radar, and specialized tools such as the VacMaster 4000 system for test hole excavation. This equipment provides us with the performance required to excavate quickly, neatly, safely, and both the air lance and the suction hose are some of the most powerful in the industry.
AMT utilizes information developed during the surveying and SUE efforts to identify which utilities may conflict with the proposed construction. We coordinate directly with each company to work out a relocation of their utility, or as much as possible, modify our design to avoid the utility.
We have designed more than 21 miles of pipe work in the last three years.